This is a MetalStorm: Online plane.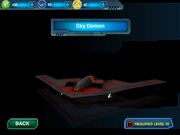 The Sky Demon benefits from speed +18%, agility +14%, damage +13% and evasion +12%. It is a weapons class plane and is currently unlocked at the highest level of all planes-- level 35
The speed, agility and evasion makes the Sky Demon one of the best dodgers in the game.
This is a B-2 Spirit stealth bomber
Before, you needed to be level 35 to unlock it.
Ad blocker interference detected!
Wikia is a free-to-use site that makes money from advertising. We have a modified experience for viewers using ad blockers

Wikia is not accessible if you've made further modifications. Remove the custom ad blocker rule(s) and the page will load as expected.