F-113 Eagle-X

Basic Info

Cost
Class
Weapons Class
Requirements
Achievement

Extra Stats

+15%
+15%
+2%
+2%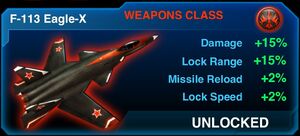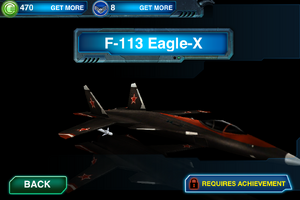 This is a MetalStorm: Online plane.
COST AND REQUIREMENTS:10000 credits but can only be unlocked AFTER you complete the campaign.
It is overall a great plane, but will require some upgrades. What I find lacking is the small boosts in missile reload and lock speed. It's barely an increase! This a plane that MUST be upgraded to compete with others.
The Eagle X represents the Su-47. The Su-47 is a Russian fighter aircraft.
This is a Russian Su-47 Berkut. The Su-47 is a twin engine, supermanoverable stealth fighter plane under development from the Sukhoi Design Bureau.
Ad blocker interference detected!
Wikia is a free-to-use site that makes money from advertising. We have a modified experience for viewers using ad blockers

Wikia is not accessible if you've made further modifications. Remove the custom ad blocker rule(s) and the page will load as expected.