Emerson Frost, referred to as Frost, is an Ace and the third antagonist encountered in Metalstorm: Aces. He appears in Arctic Assassin, Long Way to Fall, and Frostbite. He pilots the Sterling Epee.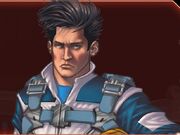 Appearances
Edit
Arctic Assassin
Edit
WIP.
Long Way to Fall
Edit
WIP.
Frostbite
Edit
WIP.
Personality
Edit
As his name suggests, Emerson Frost has a cold personality, treating the protagonist more comtemptously than other Aces. He's said to have the biggest ego of all the antagonists and looks down upon the main character, calling them names like "worm" and "peon".
Frost's name may be a combination of the names "Ralph Waldo Emerson" and "Robert Frost", which are both names of famous poets.
Ad blocker interference detected!
Wikia is a free-to-use site that makes money from advertising. We have a modified experience for viewers using ad blockers

Wikia is not accessible if you've made further modifications. Remove the custom ad blocker rule(s) and the page will load as expected.