E-14 Tempest

Basic Info

Cost
Class
Defense
Requirements

Extra Stats

+5%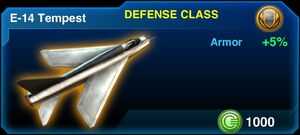 COST:1000 Credits
CLASS:Defense
BENIFITS:+5% Armor
DESCRIPTION: More narrow than most planes, extra armor is not visible. Two engines in the back power the E-14 plane and the wings are much closer to the sides.

This is one of the starter aircraft you can get.
This aircraft is based off of a fighter that was used by the British Royal Air Force in the Cold War era, called the BAE Lightning
This plane is hard to handel and it is slow :c
Ad blocker interference detected!
Wikia is a free-to-use site that makes money from advertising. We have a modified experience for viewers using ad blockers

Wikia is not accessible if you've made further modifications. Remove the custom ad blocker rule(s) and the page will load as expected.