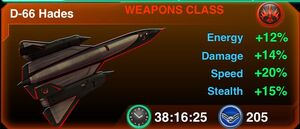 This is a MetalStorm: Online plane. (Please l want buy this plane )
The D-66 Hades' stats are based on the real life SR-71 Blackbird. True to its real life counterpart, this aircraft is blazingly fast and has got adequate stealth, with high damage and energy being icing on the cake. Hit and run tactics work well on this aircraft due to its speed and stealth.
Ad blocker interference detected!
Wikia is a free-to-use site that makes money from advertising. We have a modified experience for viewers using ad blockers

Wikia is not accessible if you've made further modifications. Remove the custom ad blocker rule(s) and the page will load as expected.