n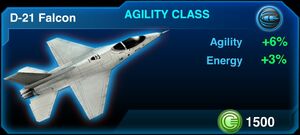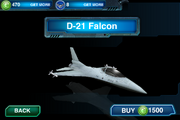 This plane resembles an F-16 Fighting Falcon.
Class: Agility

Agility: +6%

Energy: +3%
This plane is one of the first steps a beginner may use to grow in metalstorm. While the base agility may seem low for the agility class (placing 7th of 10) it is higher than many other planes the user may choose. This combined with it's low cost of just 1500 coins makes it a great choice for beginners who are looking for a step up from their beginer choice of aircraft
Ad blocker interference detected!
Wikia is a free-to-use site that makes money from advertising. We have a modified experience for viewers using ad blockers

Wikia is not accessible if you've made further modifications. Remove the custom ad blocker rule(s) and the page will load as expected.