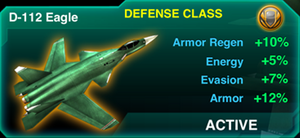 This plane has been discontinued.
The Eagle is more commonly known as the "Green" Eagle or the Green Turtle (because it is very slow).
The Green Eagle was a plane that was only in the first few versions for MetalStorm. It was later taken out due to exceedingly high regen rate. The Green Eagle has a high hp regen rate.
According to some people, the Green Eagle's weakness is the F-41 Viper .
The D-112 is the Russian Sukhoi Su-47 Berkut stealth fighter
Ad blocker interference detected!
Wikia is a free-to-use site that makes money from advertising. We have a modified experience for viewers using ad blockers

Wikia is not accessible if you've made further modifications. Remove the custom ad blocker rule(s) and the page will load as expected.