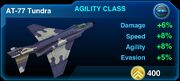 This is a MetalStorm: Online plane.
The AT-77 Tundra is an agility class plane. It looks like the FA-119 Reaper but has green camoflage and smaller wings. It has damage +6%, agility +8%, speed +8%, and Evasion +5% bonuses. It costs 400 medals.
It is a F-4 Phantom II fighter jet of the Cold War.
Ad blocker interference detected!
Wikia is a free-to-use site that makes money from advertising. We have a modified experience for viewers using ad blockers

Wikia is not accessible if you've made further modifications. Remove the custom ad blocker rule(s) and the page will load as expected.